Travel
Please consult the University Visit Us page for lodging and travel guides, including driving directions and rail routes.
If you are travelling by air, you may check out the cheat-sheet below on how to get from Newark Liberty International Airport to Princeton.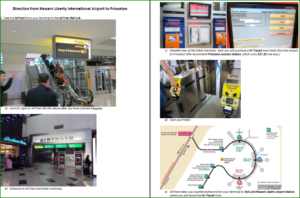 Daylight Saving Time Alert
Gentle reminder to participants who plan to leave Princeton the day after the symposium: Daylight saving time in New Jersey ends at —
  2:00AM on Sunday, November 3  
---
Lodging
A list of area inns, hotels, and motels within a five-mile radius is provided below. We suggest that you make reservations directly with the hotels (Tip: inquire about the availability of complimentary shuttle service to the campus area).
In Princeton
Nassau Inn (0.7 mile) +1 (609) 921-7500
www.nassauinn.com
Peacock Inn (0.9 mile) +1 (609) 924-1707
www.peacockinn.com
Route 1 – Southeast of Princeton
Hyatt Regency (1.5 miles) +1 (609) 987-1234
princeton.hyatt.com
Hyatt Place (3 miles) +1 (609) 720-0200
princeton.place.hyatt.com
Residence Inn Princeton (3 miles) +1 (609) 799-0550
www.marriott.com
Route 1 – Northeast of Princeton
Marriott Courtyard (1 mile) +1 (609) 716-9100
www.marriott.com
Marriott Princeton at Forrestal (4.5 miles) +1 (609) 452-7800
www.marriott.com
Westin/Forrestal Village (5 miles) +1 (609) 452-7900
www.westinprinceton.com